Most people download torrents with desktop clients such as uTorrent, but Seedr takes torrenting into the cloud and the browser. Hiding users' IP addresses from the public and bypassing any P2P restrictions, with a totally free tier to get people started, the service is rapidly gaining traction.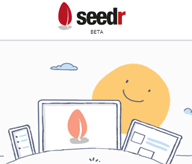 BitTorrent is a formidably popular tool, used to share files of all sizes, but it relied on desktop software clients in order to function,
Seedr
makes it possible to use in the browser.
On a basic level it's as simple as making an account (just an email address is required) and either dragging or uploading a torrent to the service. Seedr is also fully magnet link capable and can even find a torrent when supplied with just the URL of a page.
Seedr then does all the downloading and sharing itself without any local IP addresses being exposed to a torrent swarm and bypassing any network restriction that may be imposed. This means the service helps to maintain user privacy too.
THE SEEDR INTERFACE

Once the download is complete (indicated by a basic progress bar) users can transfer the content to their own machine by hitting the download button, or even streaming some types of contents!
STREAMING WITH SEEDR
Since it's browser-based, Seedr also works across devices, even allowing the user to search for subtitles if they so desire.
Seedr collects anonymous data for bug fixes and the company says that all additional statistics are anonymized after 60 days. When users ask to have their accounts deleted, Seedr wipes their statistics along with the accounts within 48hrs.
Seedr
offers a free tier and several packages for advanced users.
Free tier
– 2GB of free storage + more space for inviting friends

– Unlimited bandwidth, video playback support, high-speed downloads

– 1 parallel torrent download and 1:1 seeding ratio on public trackers
Premium
– 30GB-1TB of storage
– 2-25 parallel torrent downloads, HD streaming and
API access
– 1:1 seeding ratio on public trackers
– Private trackers support with up to 5:1 or 5 days seeding ratio
In respect of copyright action, if Seedr receives a DMCA notice the company removes the offending torrent and advises the user. That is the end of the matter.
Seedr also has a
Chrome plug-in
which enables users to add a download to Seedr in just two clicks – right-click on the link, left click on 'Add to Seedr'. Done.
It can also be integrated into Kodi, as seen in
this
tutorial.
Conclusion
Easier to operate than any other software, Seedr's beauty lies in its simplicity.
Free tier aside (which is a steal) it has a cheap packages starting at $6.95, Seedr is is everything anyone could ask for!
Seedr can be tested
here
for free.
https://www.seedr.cc/